LISBON APARTMENTS | VILLAS | BUILDINGS | INVESTMENTS FROM 200,000 EURO
Use the search bar above to simply set your maximum budget to see the maximum number of results.
Real Estate Lisbon Portugal for sale. Golden Visa Portugal, Portugal Property
PORTUGAL PROPERTY FOR SALE
Looking for Real Estate in Portugal?
Whether you're searching for a Residential, Commercial or Investment property in Portugal, you're in the very best place to start your search.
We offer handpicked quality Real Estate for sale in Lisbon, Lisbon Coast, Cascais, Silver Coast (Costa Da Prata), Algarve, Porto. For the new Golden Visa laws in 2022 the interior regions know as NUT 111 will qualify for the 280,000 Golden Visa Portugal which will be the lowest cost Golden Visa Program in Europe Portugal.
It all started in our Lisbon office, Spread spectacularly over seven stunning hills on the banks of the Rio Tejo, the Portuguese capital is a kaleidoscopic patchwork of terracotta rooftops, whitewashed walls, charming cobbled alleyways, rambling rustic ruins and delightful domed cathedrals.
This means that many Lisbon apartments for sale provide you with the added bonus of stunning sunrises and sunsets ending your day with beautiful scenery is always a blessing.
As well as amazing apartments, Property Lisbon can offer you Lisbon Real Estate investment with renovation potential, commercial properties primed for profit-making ventures including Golden Visa, and luxury villas and homes set on the scenic Portugal coasts.
From contemporary Lisbon Real Estate to traditional Pombaline buildings, our listings cater to every type of buyer and our clientele is diverse. Satisfied customers include everyone from Portuguese locals and EU citizens to non-EU nationals interested in the Portugal Golden Visa citizenship by investment scheme.
Whatever your property needs in Portugal, welcome home!
LISBON PROVIDES AN AMAZING QUALITY OF LIFE
Lisbon has a lovely relaxed pace of life which is hard for more hectic European capitals to replicate, locals are inclusive and friendly, and if you shop around you can still find restaurants serving a tasty three course meal for less than coffee and cakes for two costs on a UK high street.
In the latest Mercer quality of living city ranking, Lisbon placed ahead of cities like Paris, Madrid, Barcelona, New York and London, and was praised for its economic stability, low unemployment rate, healthy export scene and robust levels of foreign direct investment.
If you're considering Lisbon as a base for doing business in Portugal and throughout the EU, top industries here include tourism, defence, space and aeronautical, construction, automotive, creative and cultural industries, fashion, food and agriculture, health and life sciences, tech/digital and more. Plus, Lisbon and other towns, cities and rural areas around Portugal are proving increasingly popular for digital nomads who can work from anywhere on earth provided they have a laptop and high-speed internet connection.
Whether you're moving to Lisbon from elsewhere in Portugal or further afield, and for personal or business reasons (or both), opportunities abound to live your best life here!
Which property investment services do property lisbon provide?
The Lisbon Portugal Real Estate services we offer at Property Lisbon are so comprehensive that it would be easier to list the things we don't provide.
We do everything except personally moving your furniture in, advising you on interior decoration, and tucking you up in bed with a cathartic cup of hot chocolate while we read you a bedtime story – although we could be persuaded!
But seriously, we provide peace of mind when you're buying Lisbon properties with the following professional services:
Native English and Portuguese speaking staff on hand to help at all times.
Listings include apartments, houses, villas, and all manner of residential and commercial Real Estate in Portugal.
We work independently of any franchise, allowing us to source the best deals for each and every customer.
Substantive customised support packages that guide all foreign investors through each stage of the process, from initial enquiries to making offers and moving in.
Expertise in the Golden Visa Portugal citizenship by investment scheme for non-EU citizens and a full complement of compliant properties to buy for the 500k, 350k and 280k qualification routes.
Rental-ready 350,000 Euro Rehabilitation Projects for the Lisbon Golden Visa. Reduced cost properties that can generate an income during and after the five-year route to permanent residency.
Recommendations for skilled and trusted builders for property renovations.
Rated and recommended independent legal services.
Information on NHR Portugal (Non-Habitual Resident tax program).
Short-term rental solutions for clients.
Short, medium and long-term property management services in Lisbon.
By offering you the precise level of support that you need as a unique client, we'll ensure that the entire process of buying Lisbon real estate is hassle-free and that you can start the next chapter of your life feeling calm and confident.
LISBON | SILVER COAST | ALGARVE & PORTO
Apartments for sale in Lisbon
At Property Lisbon we always have an excellent choice of Lisbon apartments for sale because these are amongst the most popular properties for our clients.
Whether you want to live in the charming hillside community of Alfama, the hip, lively neighbourhood of Bairro Alto and Chaido, the historical Baixa or the attractive neighbouring area of Belem, we can help you find the ideal apartment for the lifestyle you've been dreaming of.
Advantages of living in a Lisbon apartment
If you're a fan of convenient contemporary living, buying an apartment in Lisbon will suit you down to the ground.
The beauty of an apartment is that it offers the privacy and comfort of a private home with the security and sociability of having neighbours who you can integrate as much or as little into your life as it mutually beneficial.
Choose the right Lisbon neighbourhood and you can be living in a lush hillside area on the edge of urban attractions, or bang in the middle of the hustle and bustle where you can stroll out to cafes, bars and restaurants in a couple of minutes, pick up shopping, meet friends and business associates or simply take an evening stroll.
Apartment living can be conducive to a lovely lifestyle for singles, couples and families, depending on the style of apartment you choose.
You might also be buying an apartment (or several apartments) with the ultimate aim of renting them out to tourists or other types of Lisbon residents, in which case we can help you find the most desirable location and connect you with trusted legal professionals and builders, as well as offering our own high-quality property management services.
Whatever your Lisbon property dreams, we're ready to make them reality!
Types of Real Estate in Lisbon Portugal
The sheer variety of Lisbon Real Estate which bolsters our books means that your only problem will be choosing between high-quality options!
However, we have years of experience in helping clients find Real Estate in Lisbon Portugal where every aspect of the location, layout, features and amenities are aligned with the purpose, whether that's a holiday home, Golden Visa-compliant purchase, buy-to-rent investment or simply an attractive new home that every member of your family adores.
If you want Lisbon Property in an older part of Lisbon, you might find the right property in a Pombaline building where you can throw open your shutters in the morning to let in the sunshine and fresh air as well as the gentle murmur or vibrant buzz of the streets.
Alternatively, you might choose a spanking new apartment in a newly built complex that has a more contemporary interior and exterior.
Shop around and you'll also find a range of apartment sizes – from bijou two-bedroom pads that are ideal for solo residents or couples to three or four bedroom flats where you can raise a family in perfect comfort.
If variety is the spice of life, Property Lisbon apartments are Scotch Bonnet peppers sent to set your taste buds alight!
Properties for sale in Lisbon
If a Lisbon apartment doesn't meet your requirements, you'll be glad to know that there's always a wide array of residential and commercial property types available.
We regularly have villas, houses, townhouses, shops, commercial complexes and land parcels in prime spots on offer, so we're confident we can always meet your Portuguese property needs.
Which type of Lisbon Property suits you?
Whatever your plans, we have properties to fit.
For instance, if you're looking for a roomy property with lush grounds, a pool and plenty of living and entertainment space for yourself and an extended circle of family and friends, a well-appointed villa is perfect and probably represents the ultimate in privacy and exclusivity.
Alternatively, buying a townhouse in Lisbon affords the advantages of a discrete entrance to your own plush pad in this stunning city, and depending on your desired neighbourhood you can find standalone, duplex or triplex properties.
Meanwhile, if you want to capitalise on the tourist trade or tap into businesses that serve locals and incomers alike, a commercial property or complex could be right up your street and represent a highly profitable way to expand your portfolio.
Many of the above properties are available as new builds or in authentic traditional styles and can also be eligible for the Portugal Golden Visa €500,00 allowing you to choose any property in Portugal, The €350,000 reduced Golden visa meaning the building should be in need of renovation and cheapest Golden Visa in Europe and Portugal the €280,000 Inland NUTS111 category Golden Visa.
Last but not least, buying a plot of land in or around Lisbon or another prime Portuguese area allows you to build your property dreams from the ground up, creating a solid foundation for your future with a completely customised project.
Which are the best portuguese regions for buying property?
We've spelled out the advantages of buying a property in Lisbon, but we can also source superb properties of all types in other Portuguese regions, you can explore the areas to buy real estate – here are a few examples for your delectation:
Algarve Portugal Real Estate is ideal if you want to live in Portugal's premium tourist area. This southernmost region is home to popular resorts like Albufeira, Faro, Tavira and Vilamoura, where beachside attractions and lively nightlife blend with unique heritage and history, so it's a hotspot in more ways than one.
Porto Portugal Real Estate means you can live and work in this famous coastal city in Portugal's northwest. The winding streets of its medieval Ribeira district are wonderful and the city if famous for elegant bridges and the production of the world's best port wine.
Silver coast Portugal Real Estate (or Costa de Prata) is a wise choice for many expats. Stretching southwards from Porto some 150km down to Lisbon, this area has been dubbed 'the Algarve of the North' and it incorporates the beautiful mountainous region of Serra da Estrela, traditional historic towns like Coimbra and Tomar, and the surfing capital of Nazare.
As you can see, if Lisbon doesn't meet your requirements, casting your net a little wider to find your dream property is hassle-free with Property Lisbon.
At Property Lisbon we also specialise in sourcing properties for clients who want to capitalise on the Portugal Golden Visa citizenship by investment programme.
Established in 2012, this scheme has allowed thousands of non-EU/EFTA third party nationals and their families to settle permanently here, secure Portuguese and EU citizenship and benefit from the tax advantages of Non-Habitual Tax Resident (NHTR) status.
Our wealth of experience in this specialist Portugal property niche means that we don't just find eligible properties for you, but we also guide you through the entire journey and connect you with the fellow professionals who it's advisable to consult, from legal experts to construction firms, depending on the requirements of your chosen route.
Whether you choose the €500k, €350k reduced Golden visa Portugal or the €280k Low density inland Golden Visa route, subject to certain conditions, you can qualify for permanent residency after five years and have your Portuguese passport after six.
And another amazing advantage of the Golden visa Portugal scheme is the there's no requirement to move to Portugal permanently during the qualification process – if it suits, you're only required to be present in Portugal for seven days in the first year and 14 days in each subsequent year.
Furthermore, if you choose to be mainly based outside of Portugal during the qualification period, you can rent out your Portugal Golden Visa property and garner a handsome rental income from it.
Read on for the lowdown on the three categories.
What are the different Portugal Golden Visa routes?
Here's a brief overview of the three different Portugal Golden Visa routes:
Choose the €500k Portugal Golden Visa if you want refreshingly straightforward citizenship via investment option. As you'll expect, the main requirement is purchasing a property worth at least 500,000 Euros, provide the correct evidential paperwork and meet the standard suitability and eligibility requirements.
Choose the €350k Golden Visa if you have the wherewithal and time to purchase a property whose value, after specified refurbishments, is at least €350,000 Euro's for rehabilitation. The value of the property plus the renovations must add up to the specified amount and you need to provide evidence that you have the cash required for the project lodged in a Portuguese bank account and have instructed builders to carry out the project.
Choose the €280k Golden Visa for an accessible option that requires a more modest initial investment outlay. Again, there are a few conditions in regard to a location with this route – properties have to be located in designated low-density areas known as NUT111 interior regions where population and GDP per capita levels are low. However, you might want to take advantage of the low entry price of 280,000 Euro's by purchasing several properties in this category for development purposes, for instance.
How we help you get your Portugal Golden Visa
First and foremost, our expertise and expansive listings mean that we're best placed to find you the best property possible under each Portugal Golden visa category.
But more than that, Property Lisbon offer a holistic service to Golden Visa clients that provides complete reassurance.
We know that buying property with the ultimate aim of gaining citizenship rights in another part of the world means more than bricks and mortar, so we're here to support you every step of the way.
You can benefit from our connections to lawyers who take care of all the relevant paperwork for you, builders who can carry out renovations to a superb standard, and we can source properties which have a pre-arranged rental arrangements with your future tenants.
When you're starting a new life in Portugal through the Golden Visa, we've always got your back.
Things to consider when buying a property in Lisbon
You've probably already been looking through our property listings in Lisbon and elsewhere – we know it's hard to resist delving into everything that's on offer and imagining how easily these amazing apartments, villas and commercial properties will help you fulfil your aspirations.
But please remember that we're always on hand to chat to you about questions big and small, whether you're wondering about terms and conditions of the Portugal Golden Visa system or simply want advice on the coolest neighbourhoods in Lisbon ,Porto or by the Beach in the Algarve and SIlver Coast.
You can contact us online and we'll get back to you in two shakes of a lamb's tail, use live chat to connect with one of our advisors or give us a call.
To progress your Portuguese property plans swiftly and smoothly, we want to understand as much as possible about what you want to achieve from the get-go – we'll work through everything from investment costs to potential investment returns and help you take your next steps towards a sun-kissed future with confidence.
While you're mulling over your options, here are a few useful things to think about:
Budget: once you know the absolute maximum you can afford, it enables a faster and more focused property search.
Residential or Commercial property? Whether you're looking for a home or an investment can also guide you towards a certain pathway in terms of price and location.
City or Country? Whether you want a rural retreat or a bussing urban bolthole, we can satisfy your needs.
Contemporary or Traditional? A preference for authentic local architecture or sleek modern lines can help us filter our options further.
Ready to use or renovation? Do you want to move in or rent out right away or are you prepared for the cash and time investment required by refurbishment properties?
Permanent residence or holiday home? In size and style, the type of property you want to spend a few weeks' holiday in each year can be very different to one you want to live in permanently.
By taking a few minutes to answer these pertinent questions, we can paint an accurate picture of your perfect property, and put the wheels in motion that allow you to grab it with both hands when the time is right!
Lisbon Apartments and Properties FAQs
How much is an apartment in Lisbon?
This depends on the neighbourhood, condition and type of property. But you can often get more for your money in Lisbon and elsewhere in Portugal than in UK cities like London and Edinburgh. Plus, the weather is much better!
Can foreigners buy property in Lisbon?
Absolutely – EU residents are free to buy property in Lisbon as are non-EU/EFTA third-party nationals, through the Portugal Golden Visa citizenship by investment scheme. Over the years we have helped satisfied customers from as far afield as the UK, USA, China, Hong Kong, Brazil and many other nations buy property in Lisbon and elsewhere across the nation.
Where can I buy property in Lisbon?
You can buy property in practically every Lisbon neighbourhood, including the tourist honeytraps of Baixa and Rossio, the boho Bairro Alta, ancient Alfama, hip Principe Real, the Moorish district of Mouraria and more. As you can see, no other real estate agency is better prepared than Property Lisbon to help local Portuguese customers, EU citizens and non-EU/EFTA clients to live their dreams in this wonderful part of the world. When you're making life-changing decisions, you need someone solid and professional by your side – we're looking forward to helping you write the next chapter of your life story!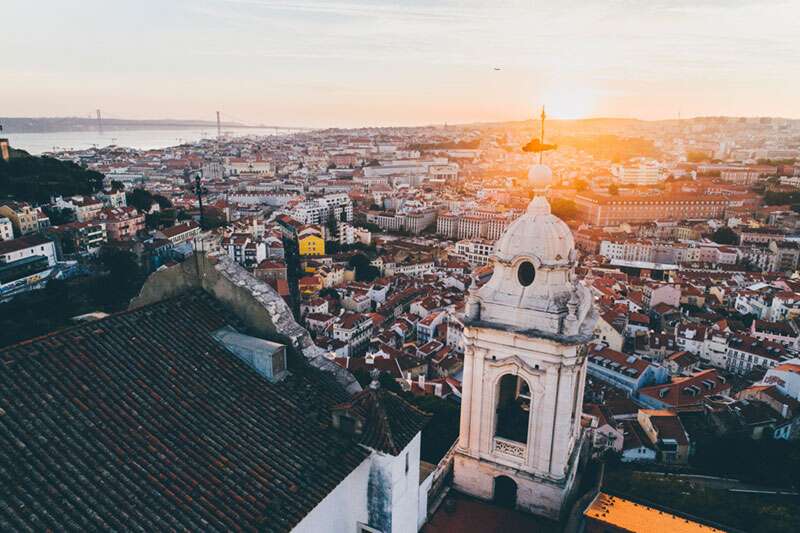 Living in Lisbon Lisbon is one of those places that seems to have everything. It's an eclectic blend of historical and modern architecture, with a
Read More »
Subscribe & Never Miss a Thing